These are the members of my family that have webpages: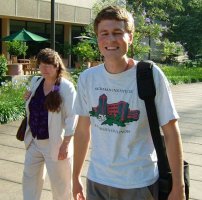 My father is a retired Mathematics professor who worked at Math Department at the UIUC. As one of the cofounders and owners of Wolfram Research, Inc, he helped write the first version of Mathematica. He taught me to understand Math when I was young and that is what made me good at it.
My mother ran the Division of Management Information at the UIUC before retiring.
My brother is working at Pololu, a small robot company run by him and a handful of friends. He is good at robotics and computer programming. He is seven years older than I.
My grandfather is a doctor. I enjoy discussing science and philosophy and politics with him.
My grandstepmother is a real estate agent.
Beth is studying harp performance in France.
Noah is studying Physics at the UIUC.
The Reams operate Ream's Elburn Market, an award-winning meat store in Elburn, Illinois. If you are ever on Route 47 in northern Illnois, you should definitely try their bratwurst, beef jerky, and bier sticks.
Stewart is my cousin.
Rachel is a software engineer.
More information is available at the The Grayson Family site.

dg_end() ?>