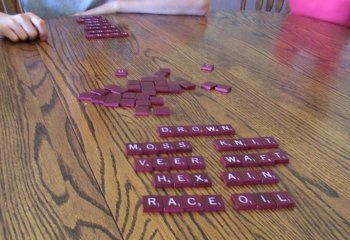 This is a great game. It is intellectual, fast-paced, and stimulating. Take a few minutes to learn it.
Setup
Get a regular set of Scrabble letters. Place them all face-down on the table. You will not need the Scrabble board.
Goal
The player with the most words in his posession at the end of the game wins.
Gameplay
Players take turns flipping one face-down letter at a time. At any time, any player may call out a word that can be formed from the upturned letters in the center and take that word.
But what makes this game interesting is that at any time any player may also steal an existing word to make a word of his own. There are three ways to steal words:
combine letters from the center with an existing word (or words)
combine two or more existing words
combine two or more existing words with letters from the center
The player must combine all of these letters to create ONE word. Also, every word that the player steals must be rearranged, i.e. it can not be a substring of the new word the player creates.
Examples of Stealing:
GAP + S → GASP
GIN + PAT → TAPING
PIG + HANG + R → GRAPHING
Examples of Illegal Stealing:
GAP + S → GAPS (GAP is a substring of GAPS)
SLEEP → PEELS (you must add letters or words)
GIN + TAP → TAPING (TAP is a substring of TAPING)
The game ends after all letters have been flipped over and every player agrees that the game should end.
Minor Rules
When a player creates or steals a word, it becomes his turn to flip a letter.
All words created must be at least 3 letters long.
A player may wait as long as he wants to turn over a letter on his turn. After all, this is a game of thought.
Hints
Look for the ING: There are thousands of words that end with ING. This can be very useful. For example, if you notice that ENGINE has the letters for ING in it, then you can look for a word to make out of ENGINE which ends in ING. This leaves you with the letters ENE to make the beginning part of the verb, so it is obvious that you can make NEEDING if a D comes up.
Know what kinds of words are vulnerable: Generally, new words, short words, and words with common letters are vulnerable. Try to steal those.
Make plans: If you see a possibility for stealing a word, then remember what letters you need to steal that word and get ready to call it out. For example, if someone had KINDRED then I would wait for an L and an E to come up, and shout REKINDLED.
Be spontaneous: Making plans is a good idea, but you also need to think fast when a letter is turned over.
Etiquette
When turning over a letter, make sure that every player sees the letter at the same time; don't let your hand block the letter from some players while others can see it.
Place your words close to the center pile to make it easier for other players to see them.
History
My brother Paul learned Speedy Scrabble at a party at Harvard and taught it to our family.
Related products
One Up! - The Wicked/Smart Word Game is basically the same as speedy scrabble, but I haven't tried it or counted their letter distribution.
Apex App LLC has released an iPhone application similar to speedy scrabble. It's a 1 vs 1 match between you and the computer, and it is called Word Duel.
SCRABBLE® is a registered trademark. All intellectual property rights in and to the game are owned in the U.S.A and Canada by Hasbro Inc., and throughout the rest of the world by J.W. Spear & Sons Limited of Maidenhead, Berkshire, England, a subsidiary of Mattel Inc. Mattel and Spear are not affiliated with Hasbro.
dg_end() ?>